Top 10 reasons to invest in Croydon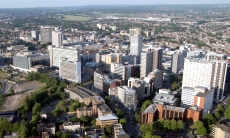 Croydon is a thriving retail and commercial hub at the very heart of south London. It is one of the capital's two strategic office centres outside of the city.
Linking central London with the Surrey countryside and the south coast, Croydon provides the lifestyle benefits of the country while being only minutes from town and acting as a gateway to London Gatwick International Airport.
With 341,800 residents, Croydon is south London's biggest borough by population
If it were a city, it would be the UK's 10th largest by population (excluding Greater London)
Just 10 miles from central London the borough is connected by rail, tube, tram and bus
Three million people live within 10 miles of the town centre
Croydon is the biggest commercial hub for the south London and south coast region, which stretches from Hampshire to Kent. The next largest commercial centres are Medway and Southampton
As one of London's most important office hubs, Croydon has over 7 million sq ft of office space and is home to 24 blue chip organisations including: Nestle, Chartris, Mott Macdonald, Sir Robert McAlpine, Carillion, Network Rail, Barclays Financial and Insurance Services, Bank of America and the UK Border Agency.
Banking, finance and insurance, distribution, hotels and restaurants account for 50.9% of employment
Between January 2009 and January 2010, 199 companies relocated to Croydon from other parts of the UK
Twenty-eight of the UK's top 30 retailers are in Croydon, with major outlets of John Lewis at Home, Debenhams, House of Fraser, Marks and Spencer, IKEA and Miss Selfridge as well as a host of fashion shops from River Island and Republic to LK Bennett and La Senza
More than 9,075 businesses are VAT registered in the borough, with 555 new registrations in 2008, which exceeds the national average