Croydon transport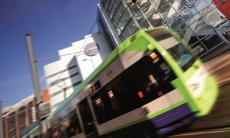 Croydon is the most connected urban centre in England's south-east and the only London borough linked by all modes of public transport.
Central London is a 15 minute train journey from Croydon; the UK's second busiest international airport, London Gatwick, is 15 minutes by train.
Stratford, home of the London Olympics, is just 33 minutes from West Croydon station by the newly extended East London Line.
East Croydon is Great Britain's second busiest rail interchange and is used by 27 million passengers a year. A £20 million refurbishment will accommodate ever rising demand.
Croydon Tramlink is the UK's biggest tram network. It is used by 28 million passengers a year. New trams were added in 2012 and the latest wave of expansion is due for completion in 2015.
Croydon is only 8.5 miles from junction seven of the M25 motorway, linked to it directly by the A23 London-Brighton road, and thereby just 23 miles from the UK's busiest international airport at London Heathrow.